NEW OTTER PRO Xtreme Duty LED SHELTER LIGHT KIT
The Otter Pro Xtreme Duty LED Light Kit offers true universal placement versatility and the ultimate in illumination options.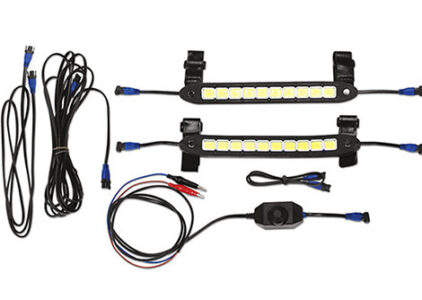 Brightness and Control:  Two heavy duty rubber encased flat-back light strips offer a maximum 1200 lumens of brightness that is controlled with an in-line dimmer dial that ensures you have the exact amount of light in any situation.
Universal Mounting:  Non-slip cam buckle mounting straps allow you to place the lights exactly where you need them, in any flip style shelter.  Non-slip backing allows you to set your light at any angle and lock it in.
Versatility:  Connects to any 12 volt battery with supplied alligator clips and an extra-long power cord.  Additional 54" in-line power cord with quick release connectors is provided for added light placement  options.
---
---