Lightweight Heavy-Equipment for Early Ice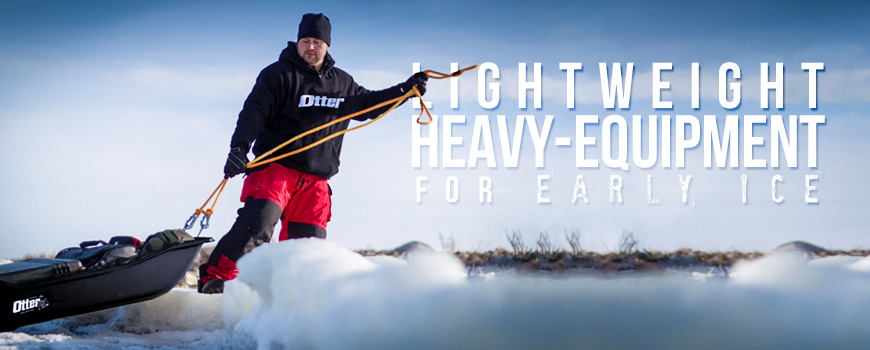 Every year, social media goes ablaze with stories and photos from someone who, typically north of the Arctic Circle, is the first to find a glaze of ice that would support their weight for the seconds it took to snap a picture.  As that image makes its way southward, people everywhere are tempted to look for ice in places it's simply not.  That said, ice always does seem to eventually come, though it's surprising how much heavy-equipment people bring out to the lake for attacking first-ice.  They show up at landings with ATVs, shelters loaded to the hilt with augers, electronics, and all the tackle they own, along with 20lb cylinders of propane and a car battery to power their LED lights.  They're perpetually disappointed in the fact that in most years, there's plenty of great walkable ice, long before there's good hard-water for the armada of ice-machines we all know comes after.  Here are some tips on gearing up light for arguably the best part of the ice-season.  
SLED
It all starts with a simple device to safely haul some gear, though not all are created equal.  While your kid's snow-sled may be the lightest weight, its low sides are problematic for gear-carry, as often you need to walk through woods, wetlands, or uneven landings that are more likely to dump your gear than keep it on the sled.  These same obstacles also offer more wear over time than you'd like to think, especially if you have extended travel over sand, gravel, or pavement.  Roto-molded sleds offer the strongest option in exchange for a very small weight sacrifice, such that you'll own it for the rest of your life.  Otter Outdoors Pro Brad Hawthorne still has an Otter sled he purchased more than a decade ago.  "In the summer, I use it to move landscaping rock, haul sand, and do whatever chores around the house I've got," says Hawthorne, "but once the mercury dips I'm putting my ice gear in it."
Shelter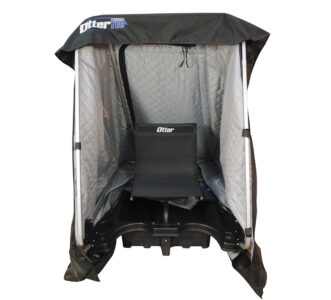 Early ice usually sees less extreme temps than mid-winter, so many prefer to fish without a shelter on the open ice.  At the same time, our internal thermostat isn't quite set to where we need it, such that a shelter does make an outing more comfortable, especially for an evening bite.  Lightweight options include one-man flip-styles that don't break the bank and are even easier on the back.  Otter Pro Joel Nelson uses his to get back to small lakes in tight spots where pulling a full-sized shelter just isn't possible.  "I focus on these smaller lakes in the sticks because they usually have ice long before the big ones.  I'm dragging my Hideout into the boonies and catching big gills when most people are still dreaming about getting on hard-water."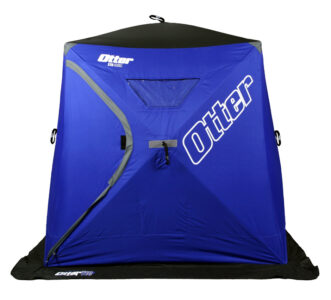 Hub-style shelters also need a look during this time of year.  Lightweight, and large for their relatively low cost, these units offer anglers a great way to fit a crowd while still staying mobile.  Tony Roach of Roach's Guide Service used his last winter on a Green Bay Whitefish Trip with his son Robbie.  "We were able to throw it into the Ranger just like any other tackle bag, and it was just as warm as the flip-style shelters I use for my clients."  
AUGER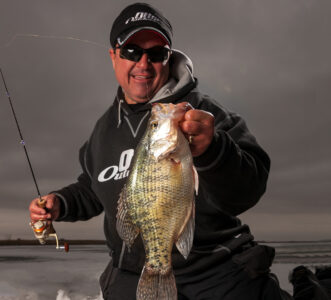 Think hand-auger for drilling less than 8"es of ice.  Not only are they lighter in weight, but they take up less room and don't require gas or a heavy and bulky battery pack to get your drilling done.  For most species except large predators, a 6" hole is plenty large enough to land panfish and even walleye.  Otter Pro Dave Koonce proved that a few winters ago when he pulled a 15" plus crappie from a 5" hole.  "It was a tight fit, and I think I heard  'pop' when it finally came through, but I've been fishing through ice-holes 4-6" for trophy panfish in the Mississippi River Backwaters for more than 30 years."
No matter how you get onto ice this season, keep it light, keep it smart, and keep it safe!
---
Tags: Brad Hawthorne, Dave Koonce, Tony Roach

---