Top 5 Otter Accessories For Towing

For most anglers, pulling a sled full of gear or an ice fishing shelter by hand across a snow covered lake is a daunting task. It isn't uncommon to see many ice anglers pulling their gear by hand when the ice is too thin (as in early or late ice). However, in the midst of Winter, once the snow falls and the lakes no longer have glare ice to easily transport gear over – many of these same anglers access the ice via motorized options such as an automobile, snowmobile, ATV, or UTV. A lot of unexpected surprises can take place when you introduce ice fishing gear to motorized vehicles, unless you have the right equipment to tow your sled or shelter to the next hot bite. Uneven towing surfaces, high speeds, and snow/slush build up can all have a negative impact if you are not equipped with the proper towing equipment.
Otter Outdoors is a company that was built by hardcore ice anglers, and so our consumers have come to expect the best when purchasing and using our products. Years of angler feedback have resulted in engineering, and re-engineering our products to make sure they stand the test of time.
Consumers who purchase towing products from Otter Outdoors rate the following products as "must-haves."
TOW HITCH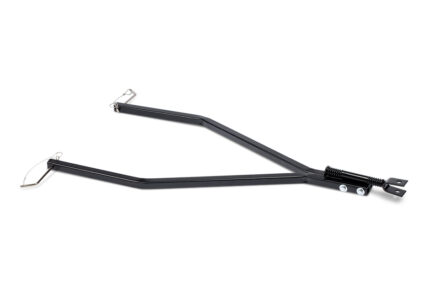 The Otter Tow hitch is built to fit both our Otter Sled and our Otter Shelters. The Tow Hitch is one of your main ingredients when looking to tow your sled or shelter across the ice. Our tow hitch is absolutely the strongest hitch on the market. It is made with heavy duty steel tubing that is complimented by a baked on finish for incredible strength. If you happen to hit rough ice, a pressure ridge, or snowbank – you can have confidence knowing your gear will still be in tow thanks to our spring loaded coupler that absorbs shocks, and also pivots in case you are headed over uneven surfaces. You can explore our options for The Sled Tow Hitch and The Shelter Tow Hitch by clicking the links.
HYFAX RUNNER KITS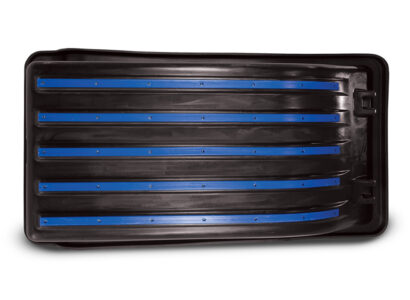 Otter Outdoors offers Hyfax Runner Kits for both our sleds, and our shelters. Hyfax Runners can extend the life of your Otter sled or shelter by protecting the Roto-Molded base. They create a surface that can take the beating of high miles on ice, snow, dirt, gravel or asphalt. While our Roto-Molded products are durable on their own, adding a Hyfax Runner Kit to your setup can help extend the life of your Otter product by keeping the base of your sled/shelter away from the rough stuff. Explore our Hyfax Runner Kits for Sleds and Shelters by clicking these links: The Sled Hyfax Runner Kit and The Shelter Hyfax Runner Kit.
HITCH PIVOT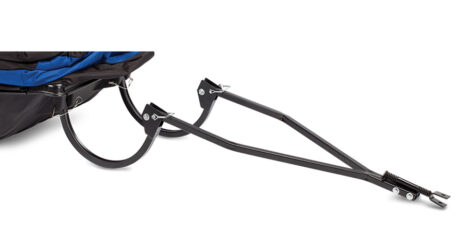 This is one of those "life is easy" accessories. Perfect for transporting your sled or shelter to and from the lake without the need to detaching your Otter Tow Hitch each time to allow for your tailgate or trailer to close. The Otter Hitch Pivot works by allowing you to fold the hitch back over the top of your sled, and when you are ready to tow – simply flip the Hitch Pivot to the downward direction, attach to your motor vehicle and go fishing! Check out The Otter Hitch Pivot here.
RECIEVER FLIPPER HITCH ADAPTER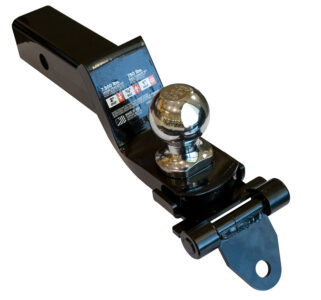 We have seen so many DIY options for this product, so we knew the demand was there when we designed our Flipper Hitch Adapter. No longer do you need to attach a rope, tie a knot, and hope that your gear is still behind you when towing with an ATV or UTV. Our Flipper Hitch Adapter is the perfect add-on for towing items that require a pin-style hitch attachment. This product is easy to install, simply bolt it on to your existing ball mount receiver, and you are ready to tow! Learn more about The Receiver Flipper Hitch Adapter here!
OTTER TRAVEL COVERS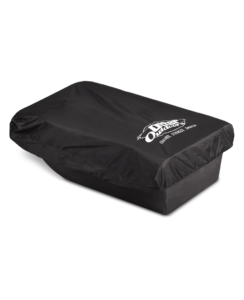 Let's face it. Nothing is worse than pulling up to your next fishing spot and realizing that your gear is covered in snow, and slush. Sure, you can fire up the heater and thaw out your gear – but you simply end up with a wet mess. No fun! That is why we created the Otter Travel Covers. You can protect your Otter gear with a travel cover that is built of heavyweight polyester which is extremely durable and water resistant. We didn't stop there, we wanted this cover to stay in place during high-speed travel so we designed our covers with a sewn in shock cord to help seal out snow, slush, and water. If you want to protect your gear, and stay dry – then check out the Otter Travel Covers we have designed for your Sport Sled, Pro or Wild Sled, or Otter Shelter Package.
---
---